Snow & Ice Management involves timely removal and control of accumulated snow through plowing, shoveling and de-icing services. Immaculate Power Sweeping, LLC has the professional staff and the right equipment to keep your property clear. The end result is a safe environment for traffic and pedestrians.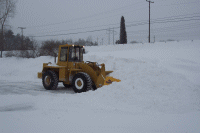 Having the proper size equipment for commercial plowing is a must. We have several front-end loaders with steel cutting edge snow pushers to move the deepest and heaviest snow. We always keep each and every parking space open.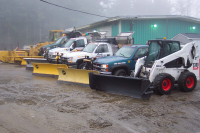 We also utilize our bobcat skid-steer loaders and suit up all of our dump trucks with plows to handle all of what mother nature can dish out.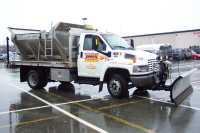 We utilize stainless steel sand/salt bulk material spreaders to battle those slippery/icy conditions.
With a large supply of sand, sand/salt and salt on hand, we are ready to battle the storm. We stockpile a minimum of 150 tons of spreading material at all times during the winter months.